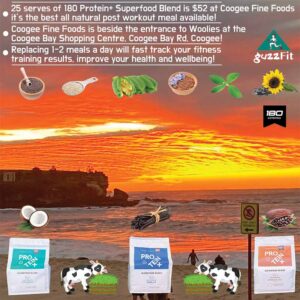 25 serves of 180 Protein+ Superfood Blend for $52 at Coogee Fine Foods i

s the best all natural post workout meal available!
Coogee Fine Foods is beside the entrance to Woolies at the Coogee Bay Shopping Centre, Coogee Bay Rd, Coogee.

Replacing 1-2 meals a day will fast track your fitness training results, improve your health and wellbeing.
Shaping and sculpting your body isn't as much about reducing the amount you "EAT" it's more about consuming better foods with a higher quality nutrient value.
As a post workout meal the living enzymes, phyto-nutrients and macro nutrient quantities in a serve of 180 Protein+ Superfood Blend improves your metabolic responses after completing a fitness training workout,
We offer a

guzz

Fit

"FREE" Trial Fitness Training session via the contact form that includes outlining the triangle of fitness: "MOVE", "EAT" & "REST" to achieve your desired fitness result at the quickest possible rate!